Luxurious Eggs Benedict gets an extra-flavorful twist with the addition of smoked salmon. This is Eggs Halifax, a viral trend that's sure to be your new brunch favorite! You'll love the combination of poached eggs, Hollandaise sauce, smoked salmon, and toasted English muffins.
A Fabulous Twist on Classic Eggs Benedict
Are you a fan of Eggs Benedict? A wonderful breakfast or brunch recipe that features buttery, lemony Hollandaise sauce over perfectly poached eggs, stacked on slices of Canadian bacon and toasted English muffin?! 🤤 It's usually something that you would order in a restaurant, but it's really not hard to make at home, especially if you have a few tricks up your sleeve (more on that later!).
WELL! Move over Eggs Benedict – Eggs Halifax is the new kid in town! In Eggs Halifax, silky smoked salmon takes the place of sliced Canadian bacon, adding an extra dimension of luxury and bold flavor. It's really not any harder to make this recipe than the original, but it is a fantastic twist that you're definitely going to love.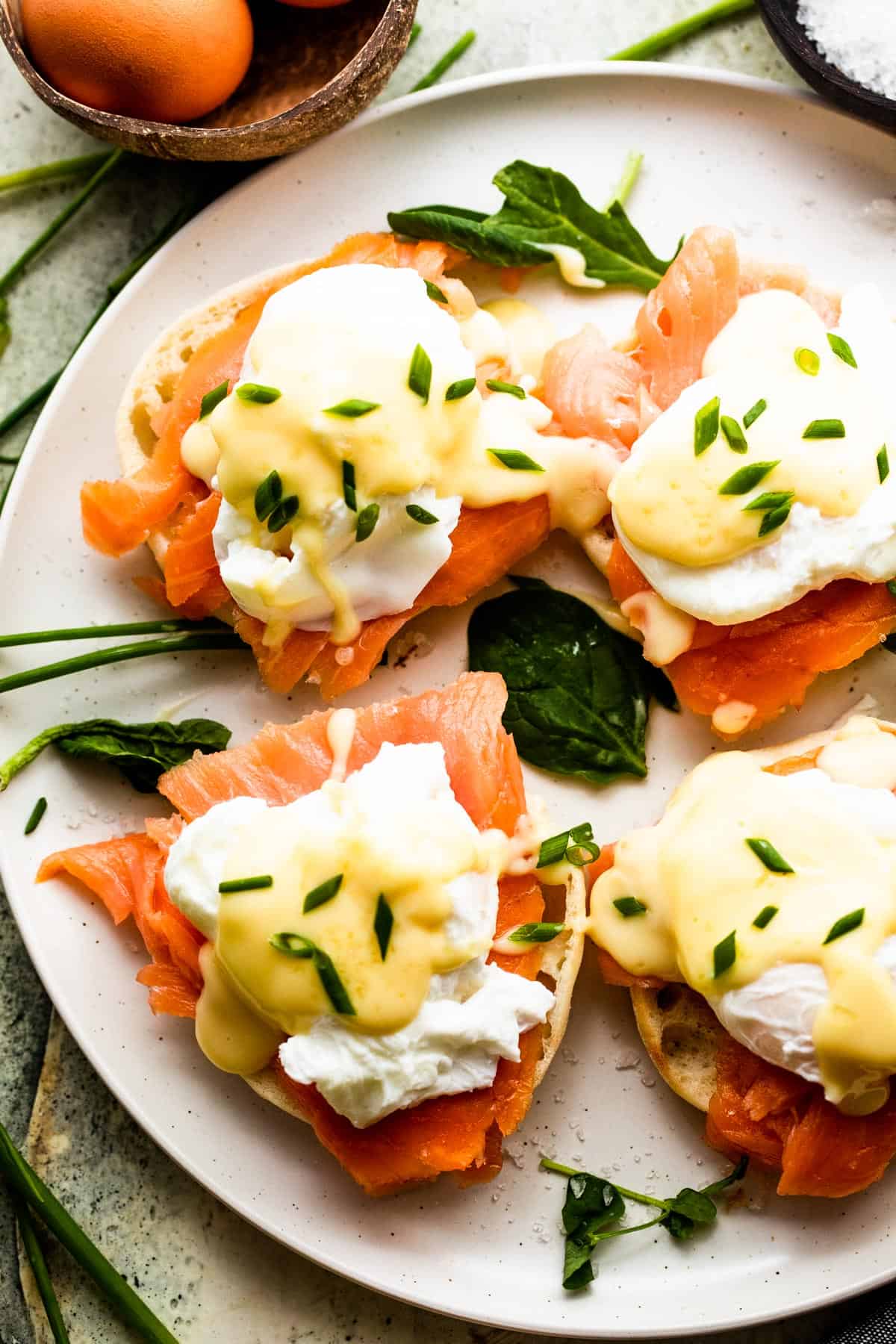 What You'll Need
To make this brunch-time favorite, you'll only need a few simple ingredients, and some Hollandaise sauce. It's easy to make your own Hollandaise in a blender – see the linked recipe for instructions!
Eggs: You'll need one egg for each serving.
Vinegar: A little bit of white vinegar in the poaching water helps the eggs poach neatly.
English Muffins: Half an English muffin, toasted, for each serving.
Smoked Salmon: Smoked salmon is easy to find in the refrigerated or seafood section of most grocery stores.
Hollandaise Sauce: Easy blender 👉 Hollandaise Sauce 👈 works perfectly in this recipe. You can also just grab a jar of it from Amazon or your local grocer.
Chopped Fresh Chives: For garnish.
Is Smoked Salmon Still Raw?
Some cured salmon is raw, but most is cooked. Here's a rundown of the basic types of cured salmon you'll find in stores:
Lox: Salmon that has been cured in a salt and sugar brine is commonly called lox. It's popular for eating on bagels with cream cheese, among other things. Lox is not smoked, just brined.
Smoked Salmon: There are two basic types of smoked salmon – hot smoked, which is cooked through, and cold-smoked, which is cured with smoked but not heated past 80°F or so. Cold-smoked salmon is technically still "raw," but the combination of smoke and brine changes the texture and flavor, and preserves the salmon.
Gravlax: This is similar to lox, but the brine usually contains alcohol, as well as dill and other ingredients.
Nova Lox: Nova lox is a Nova Scotian version of cured salmon, that is prepared in different ways depending on the maker, but usually is both cured and smoked.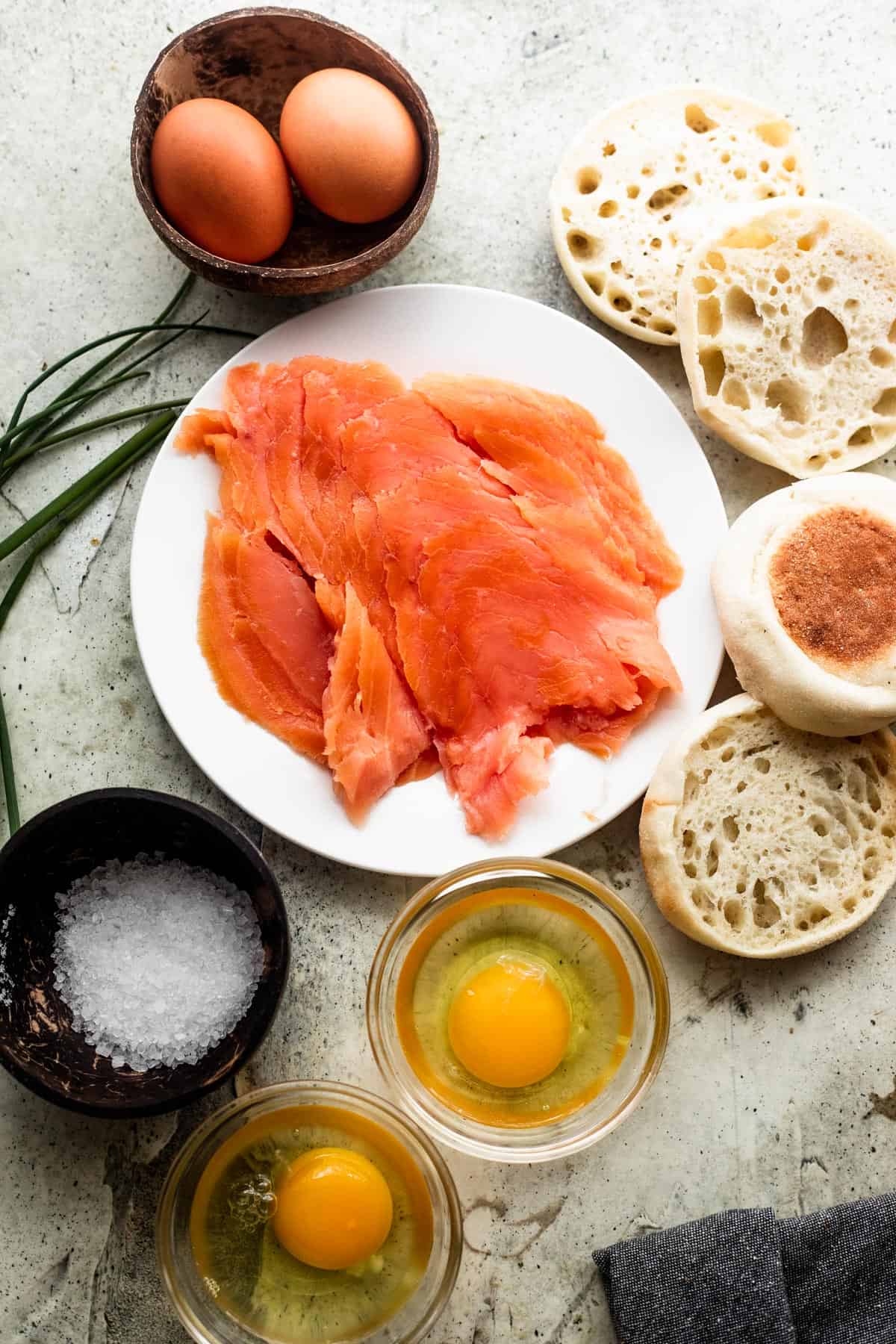 How to Make Eggs Halifax
If you feel a little intimidated by poaching eggs, no worries! It's actually pretty easy, and they don't have to be perfectly formed to be perfectly tasty. This is a fairly standard method for poaching, but be sure to check out the tips section for more egg-poaching instructions!
Prepare the Eggs and Water for Poaching. To poach the eggs, first take them out of the fridge about 15 minutes before you want to start cooking. Then, crack the eggs into individual ramekins and set them aside. Next, bring a large pot of water to a gentle boil. You want it to be consistently boiling, but not furiously boiling or boiling over. Sprinkle salt in the water and add vinegar.
Poach the Eggs. Next, use a large spoon to stir the boiling water in a circle, creating a swirl. Slowly drop one egg into the swirling water, and let it cook for about 2 minutes. The swirling water will help wrap the strands of egg around itself, making a neatly poached egg. Take the cooked egg out of the water and transfer it to a plate, trimming any excess whites with a knife. Dab with a paper towel to soak up drips of water. Cook the remaining eggs the same way.
Toast the English Muffins. While the eggs are poaching, slice the English muffins in half, and toast them. Place the halves cut-side up on a plate.
Assemble the Eggs Halifax. Top each English muffin half with a slice or two (or three) of smoked salmon, followed by a poached egg, and then a drizzle of Hollandaise sauce. Garnish with chives, and serve immediately.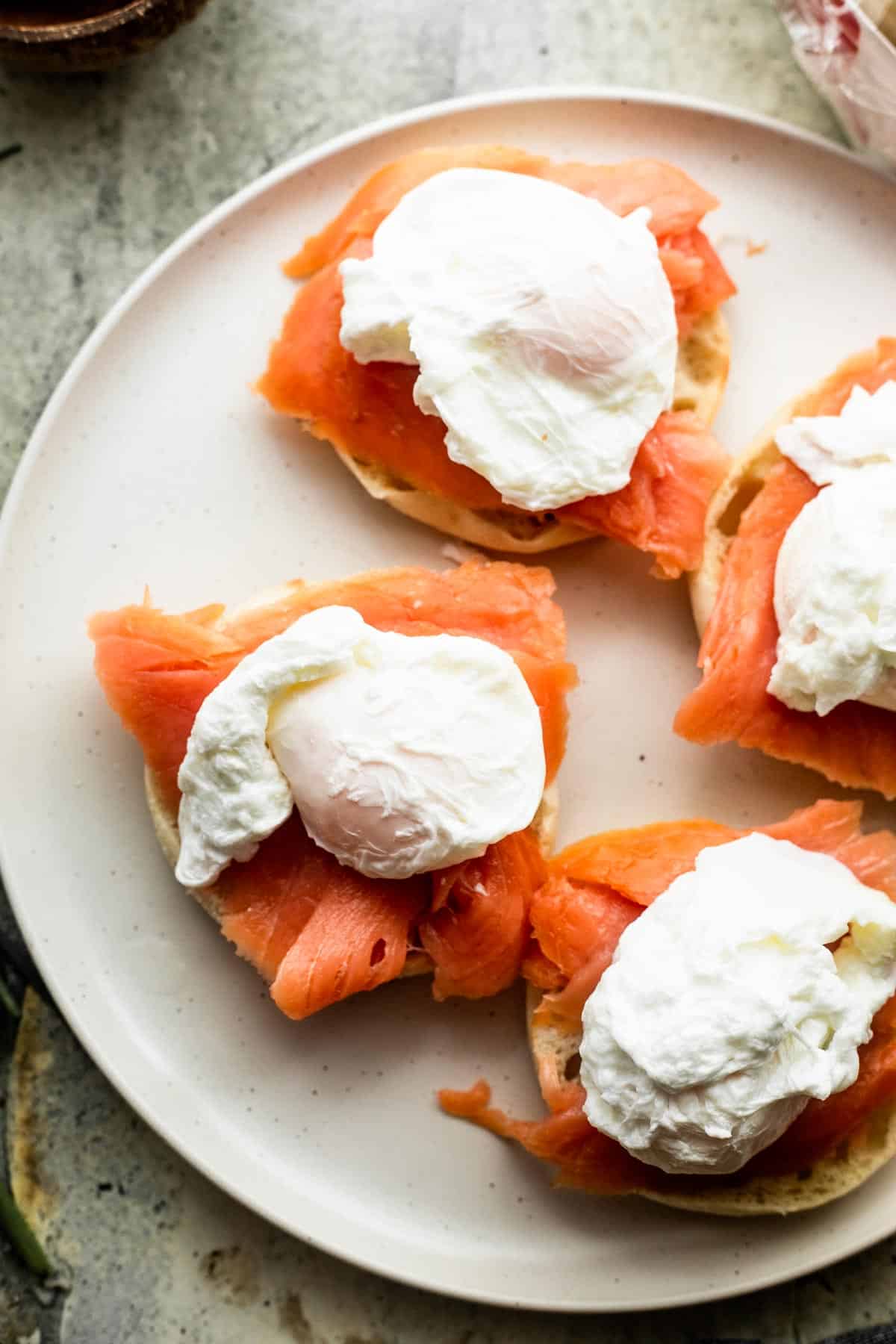 Tips and Tricks
There are all kinds of great tricks for making both poached eggs and Hollandaise – the two "tricky" parts of this recipe. But these tips are my very favorite hacks to make it easy. Happy cooking!
Keep Hollandaise Warm: Hollandaise should be served warm. If you want to keep it warm while you're cooking, an easy fix is to store the Hollandaise in a thermos or insulated mug.
The Strainer Trick: It's extra easy to make neatly-poached eggs if you use a strainer. Just crack each egg into a fine-mesh strainer, and let some of the loose egg white drain out. Then drop the egg into the water. This works best with fresh eggs – older eggs will lose more egg white.
The Ladle Trick: Another easy poached egg tip is to poach your eggs in a metal ladle. Just crack the egg into a ladle, but instead of dropping the egg into the water, lower the ladle into the water until it's just at the surface (it's okay if a little bit of hot water trickles into the ladle). This keeps the egg nicely contained while it cooks.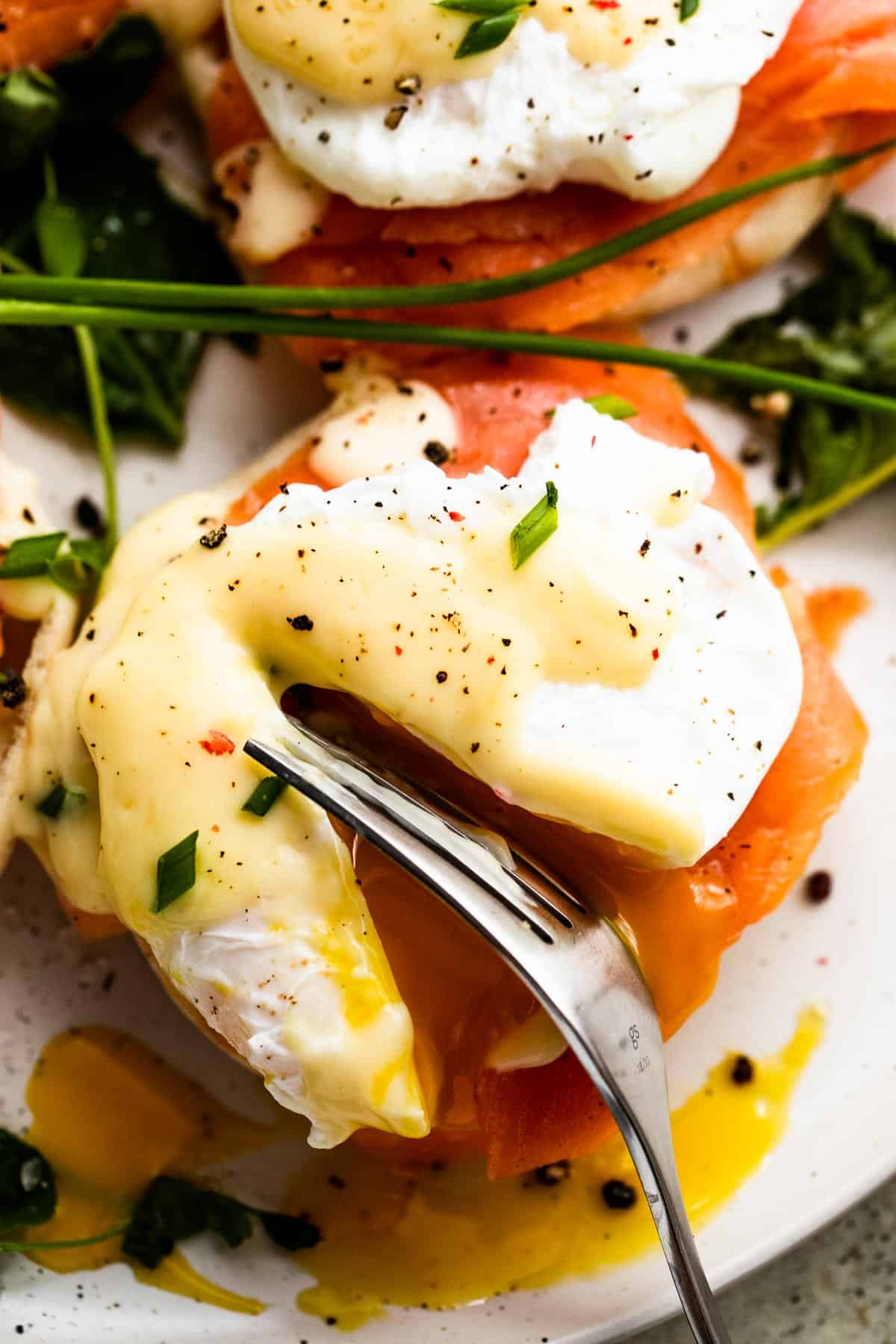 Scrumptious Side Dishes
What should you serve with Eggs Halifax? Honestly, any brunch food that you like, from pancakes to mimosas. 🥂 Green veggies, fruit dishes, and sweets are some of my favorites. These recipes deliver all of that and more:
Asparagus: A perfect match for poached eggs, salmon, and Hollandaise sauce! Try this easy Oven Roasted Asparagus – a simple cooking method that turns out just right, every time.
Fruit Salad: Any kind of fruit salad would be perfect, but a green salad with berries? Spectacular! This Very Berry Avocado Salad is healthy, satisfying, and gorgeous.
Lemony Sweets: Lemon bars, lemon scones, or my particular favorite: Lemon Cheesecake Crescent Rolls. Any of these would be amazing to round out your elegant brunch.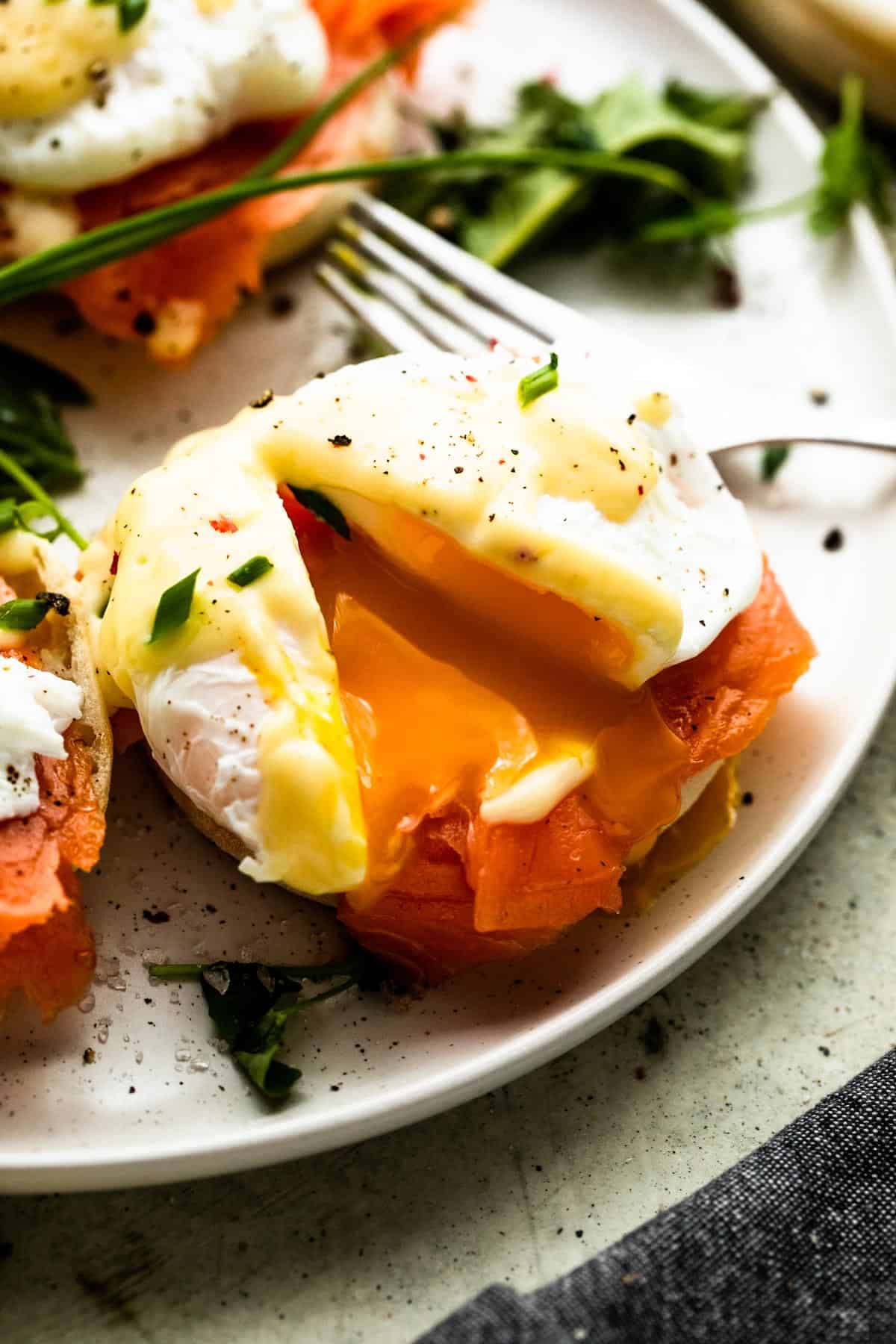 How to Store and Reheat Leftovers
Poached eggs can be stored in the fridge for up to two days. Store them in a bowl of cold water, covered, and reheat them by dropping them in a bowl of hot water until the eggs are warm.
Depending on the type of salmon you use, it should store for 3 to 5 days in the fridge.
Leftover Hollandaise will keep for 1 to 2 days in the refrigerator.
ENJOY!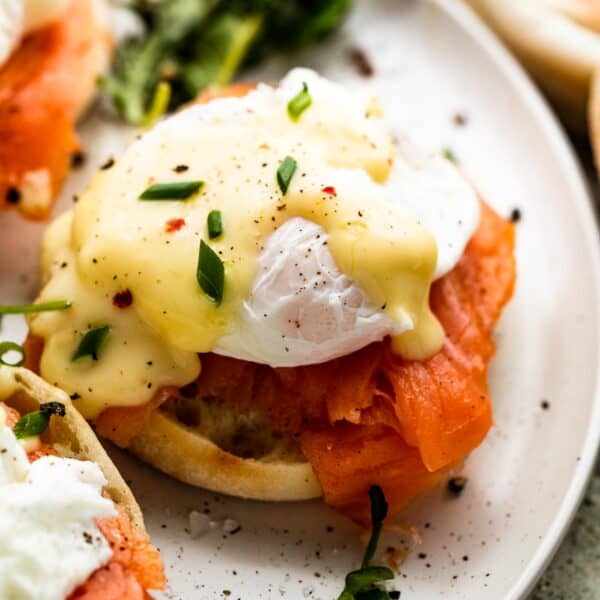 Eggs Halifax
Eggs Halifax is a delicious twist on Eggs Benedict that's sure to be your new brunch favorite! English Muffins are topped with smoked salmon, poached eggs, Hollandaise sauce, and fresh chives.
Instructions
Remove eggs from fridge 10 to 15 minutes before you're ready to cook.

Then, crack the eggs into small individual ramekins; set aside.

In a large pot, bring water to a gentle boil; that is, once the water starts boiling, lower the heat a little so the water is gently boiling, but not boiling over.

Add a tablespoon of white vinegar to the water.

Using a spoon, start stirring the boiling water in a large circular motion.The circular motion will help the eggs to stay intact.

Now, carefully and slowly drop one egg into the swirling water and cook for about 2 minutes; remove the egg with a slotted spoon and transfer to a plate.

For a prettier presentation, trim excess cooked egg white. Lightly dab the eggs dry with a paper towel.

You can poach more than one egg at a time, but do not crowd the pot.

Cut the English muffins in half and toast to desired doneness.

Place the halves of the English muffins on a plate, face up.

Add a slice or two of smoked salmon to each half.

Top with a poached egg.

Add warm Hollandaise sauce over the egg and garnish with chives.
Nutrition
Calories:
273
kcal
|
Carbohydrates:
16
g
|
Protein:
13
g
|
Fat:
17
g
|
Saturated Fat:
4
g
|
Polyunsaturated Fat:
1
g
|
Monounsaturated Fat:
2
g
|
Trans Fat:
1
g
|
Cholesterol:
194
mg
|
Sodium:
659
mg
|
Potassium:
141
mg
|
Fiber:
1
g
|
Sugar:
1
g
|
Vitamin A:
286
IU
|
Vitamin C:
1
mg
|
Calcium:
45
mg
|
Iron:
1
mg
|
Net Carbs:
15
g
Nutritional info is an estimate and provided as courtesy. Values may vary according to the ingredients and tools used. Please use your preferred nutritional calculator for more detailed info.
More Elegant Brunch Recipes