Do you know what Paprika is? It is one of the most commonly-used spices in the world. It has an incredible flavor and can be used in many different recipes. Today we'll learn all about paprika: what it is, how to cook with it, and more!
There aren't many spices that I use as frequently as paprika. It's a delicious and versatile ingredient, so many cuisines use it. I find myself pulling a jar of it off my spice rack all the time. But even though it's a commonly-used spice, many home cooks aren't sure what it is or how to use it. So here's everything you need to know about this fantastic spice, plus 20 of my favorite recipes that use it.
What is Paprika?
Paprika is a very common spice powder made out of ground red peppers. The peppers are grown all over the world, particularly in North America, South America, and Europe. There are lots of different varieties, depending on what part of the world the spice comes from. It has both a great flavor and an amazing color, so it's often used to give foods a golden-red tint.
What is Paprika Made Of?
This delicious spice is made from a species of red pepper called Capsicum annuum. It's a popular pepper that has many varieties, including jalapeños, lots of chilis, and bell peppers. It is made by growing and harvesting these peppers, which are then dried. After being dried, the peppers are ground into a very fine powder. It's the same process that creates chili powder or cayenne powder, just with a different variety of red pepper.
What Does it Taste Like?
You've probably noticed in recipes that there are a few different varieties of paprika, and each type tastes a bit different. But the primary taste in all of the varieties is the same: a sweet and earthy flavor. Usually, it is only mildly sweet, but some varieties can be very sweet. Similarly, most varieties are only mildly spicy, though a few pack a serious punch. And some types of paprika are very smoky.
Is it Spicy?
Most types of paprika have either no heat or only a little bit of a kick. However, some varieties can range from pretty spicy to super spicy. But in general, this spice does not have the heat level you would expect from a pepper powder.
Sweet Paprika vs. Smoked Paprika
The most common types of paprika are sweet and smoked. As the names suggest, one is fairly sweet and the other is quite smoky. Sweet is the most common version of this spice, and if a recipe doesn't specify what type of paprika to use, this is the variety you should choose. The flavor is very mild, so you can use a ton of it in your cooking.
Smoked paprika is made by roasting peppers over a fire during the drying process. The peppers take on an amazing flavor that is reminiscent of bonfires, so it's an essential ingredient in recipes that have smoky flavors. It's a super common addition to spice rubs for meats because it tastes so much like barbecue.
While less common than sweet and smoked, hot paprika is also a fairly common variety of this ground spice. It uses spicier peppers, and you can use it in place of sweet paprika if you want to add a kick to your recipes.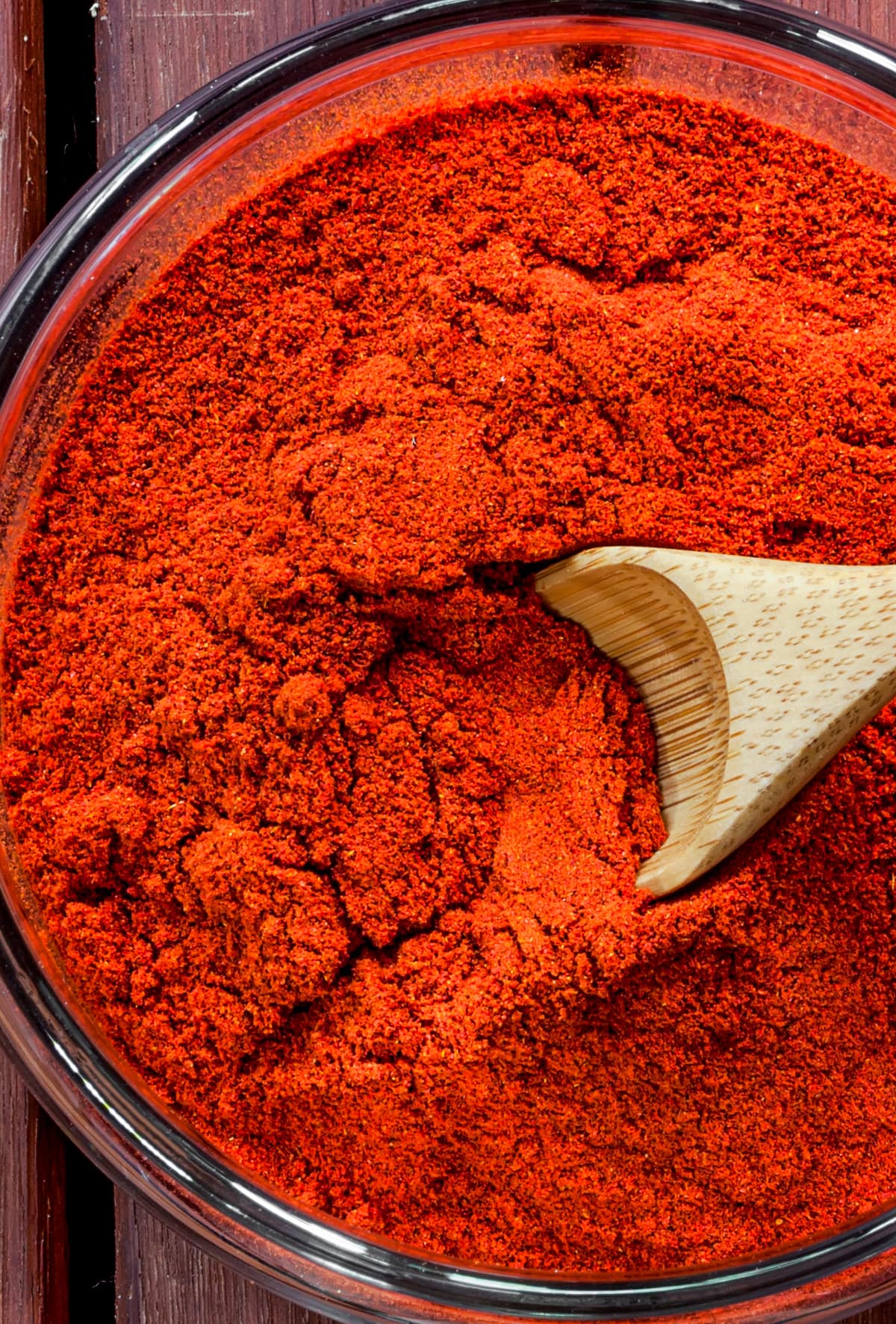 What Is a Good Substitute For Paprika?
If you don't have any paprika on hand, there are a few different ingredients you can use instead. For sweet paprika, I recommend using tomato powder. You can also use a mild chili powder or a small amount of a spicier chili powder.
For smoked paprika, the best substitute is chipotle powder. It's a little bit spicier, but it has the same amazing smoky flavor. You can also use any type of spicy ground pepper, such as cayenne, ancho, guajillo, or chili powder. Those spices are also what you would use if you want to replace hot paprika in a recipe.
Can You Make Paprika?
Technically yes, although it's a labor of love. It takes quite a while to make, and ground paprika is a very affordable ingredient, so the only reason to make it is if it sounds like a fun project to try out.
To make this spice, you need peppers, which you can buy or grow. Boldog and almas peppers are the most common for making this seasoning and will give you the trademark earthy, sweet flavor. Once the peppers are fully grown, you'll need to hang them up to air dry in a hot, dry, and shady place. When fully dried, add them to a spice grinder and blend until you have a fine powder, then store it in an airtight container.
20 Easy Paprika Recipes to Try
Now it's time to get to cooking! These 20 recipes use Paprika – I think you'll love them all.
If you're looking for more flavorful and easy meals, check out my recipe finder. You'll be able to find recipes for all types of meals and cuisines there.